Ms. Wheelchair America 2020 is Hilary Muehlberger
Hilary Muehlberger is Ms. Wheelchair America 2020, Hilary is eager to serve the community and provide mentorship and encouragement for those living with a disability across the nation. She will use her platform: "Achieving Independence through Adaptive Sports" to guide her advocacy efforts throughout her reign. She plans to focus on educating individuals living with disabilities about the benefits of adaptive sports and how they can live independent lives.
While traveling the country, Hilary will also empower others through her role as a spokeswoman for the disability community as a whole. In addition, she will have the opportunity to visit advocacy groups, make public appearances, participate in parades, and is available to conduct interviews.
Hilary uses a wheelchair for mobility because she has a spinal cord injury. She was in a car accident in 2015. However, she does not let the circumstances stop her. She lives life to the fullest and aims to shine a positive light on disabilities. Through advocacy and education, she sets an example for other individuals who also use wheelchairs for mobility.
Hilary is the first Ms. Wheelchair America from the state of Missouri in  the organization's 48-year history.
2019 Karen Roy of Louisiana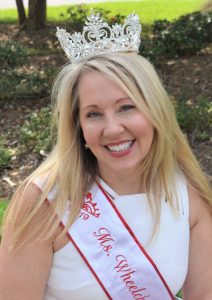 Karen's platform, "Stand for Life", was created by her years ago when she
realized that the use of technology that has existed for well over 30 years is terribly underutilized by people with disabilities. Karen spent her reign traveling the country speaking to people in the disabled community, medical professionals, lawmakers and insurance companies about the medical and psychological benefits of standing devices, functional electrical stimulation
and any technology created to keep people healthy and active.
https://www.facebook.com/LifePossibleKR/
2018 – Sheri Melander-Smith of Minnesota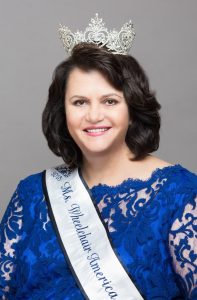 Sheri Melander-Smith of Chanhassen, Minnesota served the community and as a mentor for people living with a disability.  She used her platform: "Living Forward" to guide her advocacy.   She lives life to the fullest and aims to shine a positive light on disabilities.  Through advocacy and education, she sets an example for other individuals who also use wheelchairs for mobility.
2017 – Eliza McIntosh Stauffer of Utah
Eliza's reign took her to 21 states and two countries. Through her travels, she was able to spread her platform: Where there is a wheel, there is a way – identify your passion, invite people to join you, and ignite your community behind you.  Her passion for advocacy, education, and policy allowed her to encourage others to share their stories and use their strengths to impact the community.
2016 – Dr. Alette Coble-Temple of California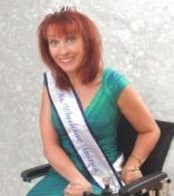 Alette spent her year as Ms. Wheelchair America traveling to 41 states and 3 countries, promoting her PRIDE (Parental Rights Include Disability Equality) platform. Her goals for her reign were to promote public acceptance and advance policy to help men and women with disabilities realize their dreams of having a family. Alette continues to balance her advocacy work with her 2 full time jobs as a professor at JFK University and the mother of a teenage daughter.
2015 – Samantha Schroth of Wisconsin
Samantha spent her year as Ms. Wheelchair America encouraging others to start conversations about disABILITIES and sharing her platform of "Learn. Teach. Repeat." Sam believes that when one door closes, another opens and believes this is especially true in her life. She was on the fast track to becoming a veterinarian until her injury forced her to switch paths. Sam is currently in medical school with the hope of becoming a doctor specializing in spinal cord injury.
You can read more about Samantha on her blog
Photo courtesy of Theresa Thomas/Seize the Moment Photographic Artistry
2014 – Jennifer Adams of Washington
Jennifer believes that our limitations are not burdens, but gifts that help us realize our purpose and potential. Jenny spent her year as Ms. Wheelchair America traveling the country promoting this message with her "Inclusion Revolution" platform. Her messages also focused on her anti-bullying campaign and the effects that words, both positive and negative, can have on people.
2013 – Mariah Kilbourne of Texas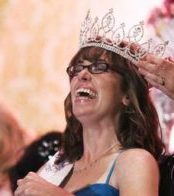 Mariah spent her year promoting inclusion in all aspects of life, from work to play, with her "Inclined for Inclusion" platform. She worked hard to promote fair and equal access to all buildings, especially those in historic districts, because she believes these barriers have plagued the disability community for too long.
2012 – Josie Badger of Pennsylvania
Josie spent her year traveling the country, including Alaska, promoting her platform of developing empowerment and leadership development of youth with disabilities. She also spent her reign promoting awareness of the need to eliminate architectural and attitudinal barriers, informing the able-bodied public of the achievements of the millions of people with disabilities across the nation.
2011 – Alexandra McArthur of North Carolina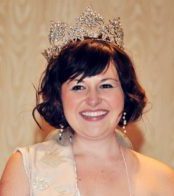 Alexandra spent her year advocating, inspiring and challenging every audience she spoke to. She also shared her platform of the importance of employment for people with disabilities to promote inclusion, which she believes happens person by person, and worked towards full and equal access for people with disabilities, changing one mind at a time throughout the year.
2010 – Erika Bogan of North Carolina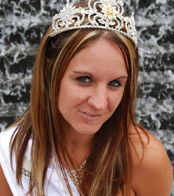 Erika used her own personal story as an example than anything is possible through perseverance and determination. Her platform also focused on seeing the abilities of all people with physical limitations and the need for state resources to promote independent living.
2009 – Michelle Colvard of Texas
Michelle's platform emphasized the need for people of all abilities to take responsibility for their own health and wellness. Her year as Ms. Wheelchair America helped prove that women who happen to use wheelchairs can be every bit as successful, vibrant and powerful as other women.
2008 – Kristen McCosh of Massachusetts
Kristen spent her year traveling across the country spreading the word about the accomplishments and achievements of people who use wheelchairs. She also spent her year advocating for vital programs and services that facilitate empowerment and success for people with disabilities, such as employment, success, education, transportation, housing and health care.
2007 – Autumn Grant of Massachusetts
Autumn's involvement with Ms. Wheelchair America began when she was crowned Ms. Wheelchair Massachusetts in 2006. She has served in several positions on the Board of Directors and currently works as the Associate Director or Undergraduate and Student Affairs at Northeastern University.
2006 – Kristen Connors of Rhode Island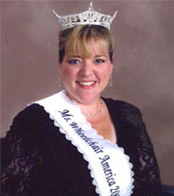 Kristen combined her employment and leadership knowledge and her advocacy work to pursue her platform of "Breaking Down Attitudinal Barriers for People with Disabilities in the Workforce." People with disabilities face obstacles in the workforce every day and Kristen believes that we are the only ones who can set limits for our potential to overcome these obstacles.
2005 – Juliette Rizzo of Maryland
Juliette empowered Americans with disabilities though her Ms. Wheelchair platform, "Power through Participation: Illuminating Opportunities for People with Disabilities." She believed that community participation is more than having a physical presence but is also about finding your identity through your involvement in personal contribution to community life.
2004 – Cinda Hughes of Oklahoma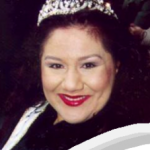 During her reign, Cinda encouraged other young women with disabilities to use the gifts they have been given and not to focus on their physical limitations. Cinda believed that Ms. Wheelchair America "has the responsibility and opportunity to reinforce inner beauty and the spiritual gifts that women with disabilities possess – grace, tenacity, perseverance and empathy."
2003 – Catherine Gugala of Wisconsin
2002 – Candy Marsh of Colorado
2001 – Nicki Ard of South Carolina
Nicki Ard, Ms. Wheelchair America 2001, embodied the true spirit and mission of the organization. Nicki's purpose in the short life she was blessed with was serving and advocating for people with disabilities. She did this through her motivational speaking and her music ministry. Nicki passed away one month before her reign ended. MWA continues to honor her memory and service and service with the Nicki Ard Award, which is given to the contestant who best embodies Nicki's spirit and passion for advocacy.
2000 – Tracy Charlton-O'Connor of South Dakota
1999 – Christina Gilmore of Wisconsin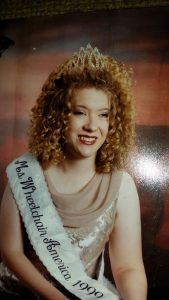 1998 – Terri Cecil of Kentucky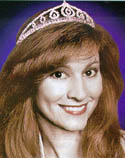 1997 – Elaine Stefanowicz of Washington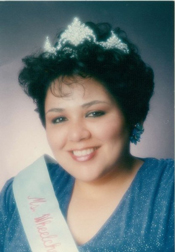 Elaine Stefanowicz was Ms. Wheelchair America 1997. Winning the title was a life-changing experience that helped Elaine win a full-ride scholarship and the 2003 Woman of Distinction Award from the Girl Scouts. Elaine is now serving on the Governor's Committee on Disability Issues & Employment. She also works as an Educational Planner at Green River Community College in Auburn, WA, where she advises for all of the health science programs. Elaine is still friends with many of the women who were in the pageant with her and will always cherish her time as Ms. Wheelchair America.
1996 – Amy Baxter-Ley of Texas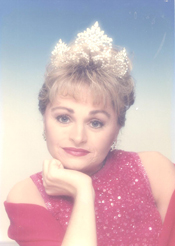 Amy (Baxter) Ley of Texas was Ms. Wheelchair America 1996. Amy worked to educate as many people as possible about the MWA Program. Amy worked for American Airlines during her year and traveled extensively. Amy served on the Board of Directors and was also a State and National Judge for many years. Amy served for 11 years on the Texas Council for Developmental Disabilities and is currently kept busy by her job and family. Any free time is spent staying in shape (and strong) with Camp Gladiator and a personal trainer, church, traveling and cooking.
1995 – Wendy Petzold of Wisconsin
1994 – Dawn Blodgett of California
1993 – Kim Mensi of Alabama
1992 – Deanna VanHook of Texas
1991 – Mercedes Rodriguez-Fowler of Florida
1990 – Kathy Garcia Farnsworth of Utah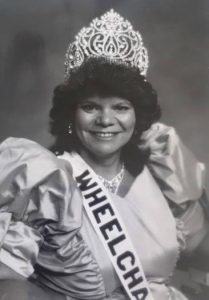 1989 – Jewell Massey of Georgia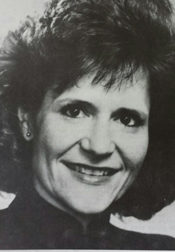 Jewell Massey was Ms. Wheelchair America 1988. Although platforms were not used at the time, Jewell's focus during her reign was the importance of mainstreaming in social development. Her travel was not as extensive as that of some of today's titleholders because she worked as a gifted education teacher. Jewell considers herself somewhat of a dark horse winner because she did not socialize a great deal outside of the planned events. Jewell is now retired from a long teaching career and is restoring a house in Knoxville, TN.
1988 – Peggy Simpson of Alabama
Peggy believed that problems need to be turned into opportunities and that easily identifiable barriers, such as narrow doorways and stairs, are not obstacles as big as fear and ignorance – the fear of many people with disabilities to 'step out of their comfort zones' and the ignorance of many able-bodied people to realize the differences they see don't truly exist. Peggy believed that with communication and hard work, we can build a better tomorrow.
1987 – Sandra Honbaier of North Carolina
1986 – Donna Cline of Nevada
1985 – Lori Cottam of Utah
1984 – Gaynell Colburn of Maryland
1983 – Barbara Crozier of Alabama
1982 – Marian Schooling-Vessels of Maryland
Marian spent her reign traveling the country attempting to dispel some of the myths and break down the attitudinal barriers that the general public held about people with disabilities. Marian has a Bachelor of Science in Community Health Education and was pursuing her Master's degree in Public Health.
1981 – Vivienne Thomson of Massachusetts
Vivienne began her advocacy journey as a way to show her children that she would not be a burden on them. Vivienne spent her reign breaking down attitudinal barriers that people with disabilities face, making an attempt to show people that a disability does not define your entire life. She believed that once these attitudinal barriers are broken down, the architectural barriers will soon follow.
1980 – Nancy Pudvin of Georgia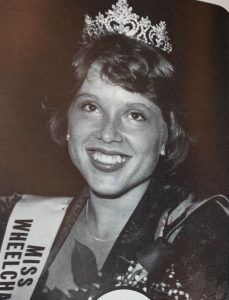 1979 – Margaret Chmielewski of Michigan
1978  – Margie Sloan of Georgia

Margie spent her reign workings toward civil rights and equal employment for those with disabilities. Her philosophy was based on equal rights, equal justice and equal opportunity for all and she worked hard to promote that philosophy.
1977 – Beverly Chapman of Florida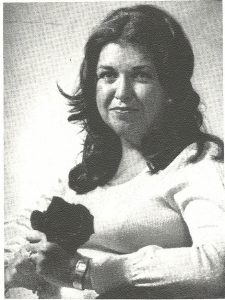 1976 – Dixie Lee Etheridge of Mississippi
During her reign, Dixie traveled throughout the country promoting the goals and mission of the Ms. Wheelchair America organization and had the opportunity to discuss the problems of attitudinal and architectural barriers that face people with disabilities with President and Mrs. Gerald Ford. Dixie let her own accomplishments, a Bachelors's degree in Education and the pursuance of a Master's in Speech Pathology and Audiology, speak to the public that while those with disabilities may have physical limitations, they are not incapable.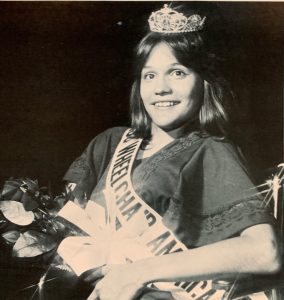 1975 – Diana Kenderian of New Jersey
Diana, an outspoken advocate and spent her reign championing equal rights for people with disabilities. She was active in her community and in many organizations for people with disabilities and uses these platforms, as well as her reign, to spread her message that "there is nothing wrong, sad or different about being disabled. It is only when society makes people different that problems arise."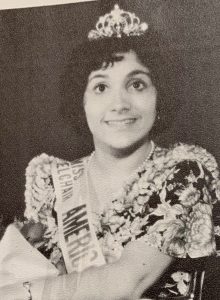 1974 – Caryl Jane (Janie) Robinson of Texas
Janie was crowned in Columbus, Ohio after a weekend of interviews based on personality and accomplishments. Janie worked as a coordinator for Driver's Evaluation and Training at Texas Institute of Rehabilitation and Research and was pursuing her degree in Psychology.
1973 – Patricia Nevins of Michigan
The first Ms. Wheelchair America, Pat was crowned after a weekend of interviews based on personality and accomplishments. Pat was active in wheelchair sports and was an officer with the Michigan Wheelchair Athletic Association. Pat wanted to be a Recreational Director for wheelchair sports.